Review Of The Year 2009 Quiz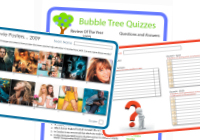 This complete pub quiz pack is themed around events that took place in the year 2009 and so should be especially suitable for quizzes run towards the end of 2009 or early 2010. The quiz is made up of 7 rounds as follows...
Round 1: Handout Round - Movie Posters
This picture round features extracts from posters that were used to help advertise 10 movies in 2009. The aim for teams in your quiz is to name these movies.

Round 2: In The News
10 questions on news stories from the year 2009.

Round 3: Sport
10 questions on sporting events and acheivements in 2009.

Round 4: 50/50
10 questions on the general theme of the year 2009, where each question includes two possible answers. Teams have to try and decide which one they think is correct.

Round 5: Entertaiment
10 questions on TV, movies and music from the year 2009.

Round 6: Initial Letter Link
10 questions on the year 2009 where the answer to the final question can be spelt out be rearranging the first letters of the first 9 answers.

Round 7: Stick Or Twist
The final round, in which teams are faced with an option to gamble or play safe. This features 5 questions where question 1 is worth 1 point, question 2 is worth 2 points and so on, and where teams can choose to "stick" and stop answering questions in this round at any point. The reason they may want to do this is because if they put down a wrong answer then they automatically score 0 for this round!
The pub quiz quiz pack is made up of 4 separate files as follows...
First of all there is a professionally designed 2 page answer sheet, which is to be printed out and distributed to each team at the start of the quiz for them to write their answers on as you read out questions. This also features a round by round scoresheet to make it easy to see how each team has performed after all the answers have been marked at the end of the quiz.
Secondly, there is a handout round, which again is to be printed out and distributed to each team at the start of the quiz for them to work on straight away, and carry on working on throughout the quiz and during any breaks you have.
Next there is a 4 page sheet featuring all the questions in rounds 2 to 7 for you to read out during the quiz, along with all the answers to these plus the answers to the handout round to be used at the end of the quiz to mark everyone's answers. This also features 2 tie-break questions to be used at the end of your quiz if two or more teams end up with the same score.
Finally, there is a 4 page sheet featuring detailed round by round instructions and notes, plus general advice and recommendations on running the quiz.
If you buy this quiz, we will give you access to pdf files you can download. These will contain all of the material described above. You probably already have everything you need to access and use these rounds in your quiz, but you might want to check our requirements page to make sure.

Note: This product was added to our site in December 2009.
If you log in to your account, a message will replace this one to tell you whether you have already bought this quiz