Specialist Subjects 84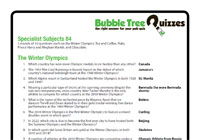 This pub quiz pack is made up of 5 rounds of 10 questions each on the following subjects...

The Winter Olympics
Tea or Coffee
Pubs
Prince Harry and Meghan Markle
Chocolate
A couple of example questions are...
- The 1993 film Cool Runnings is loosely based on the debut of which country's national bobsleigh team at the 1988 Winter Olympics?
- Which coffee shop chain has a name that means "black coffee" in Italian?
The questions have been compiled so that most teams should be able to get quite a few correct without needing to be an expert on the subject of the round. However, some of these subjects are likely to appeal to some people more than others so, if you have the problem with the same team winning your quiz each week, then introducing one or two specialist subjects rounds may help to mix things up a bit.
We recommend that you only use one of these rounds in each quiz you do and that the rest is made up of question and answer rounds on general subjects, plus question and answer rounds with a twist (e.g. connections rounds) and handout rounds.
If you buy this quiz pack, we will give you access to download a pdf file. This contains all of the questions and answers for all of the rounds in this pack. You might also be interested in our free answer sheets for teams to write their answers on as you read the questions.
You probably already have everything you need to access and use these rounds in your quiz, but you might want to check our requirements page to make sure.
These quiz rounds already appear in Weekly Quizzes 598, 604, 608, 612 and 618. If you would prefer to buy pub quiz packs complete with a handout round, a variety of other question and answer rounds, plus specially designed answer sheets for teams to write their answers on, then please visit our Complete Quizzes section. If, however, you prefer to compile your own format of quiz and are looking for extra rounds to use in this, then this quiz pack will hopefully be of use to you.

Note: This product was added to our site in July 2018.
If you log in to your account, a message will replace this one to tell you whether you have already bought this quiz