Themed Rounds 23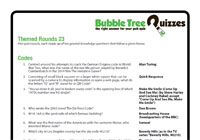 This pub quiz pack features five "themed" rounds for you to use in your quizzes. Each round is made up of ten General Knowledge questions that follow a particular theme or themes.
The rounds are as follows...
Codes
British Cities
Ace
Who
Cross
A couple of example questions from the first of these rounds are as follows...
- Consisting of small black squares on a larger white square that can be scanned by a camera to display information or open a web page, what do the letters "Q" and "R" stand for in QR Code?
- In which 1992 film does a character called Colonel Nathan R. Jessup admit in court that he ordered a "code red"?
We recommend that you only use one or two of these rounds in each quiz you do, and that the rest of your quiz is made up of handout rounds, plus other types of question and answer rounds.

If you buy this quiz pack, we will give you access to download two pdf files. The first of these contains all of the questions and answers for all of the rounds in this pack. The second is a "questions only" version of this, and can be used to give the quiz-master the option of taking part too. You might also be interested in our free answer sheets for teams to write their answers on as you read the questions.
You probably already have everything you need to access and use these rounds in your quiz, but you might want to check our requirements page to make sure.
Note that these rounds already appear in Weekly Quizzes 768 to 772. If you would prefer to buy full pub quiz packs complete with a handout round, a variety of other question and answer rounds, plus specially designed answer sheets for teams to write their answers on, then please visit our Complete Quizzes section. If, however, you prefer to compile your own format of quiz, but are looking for extra rounds to use in this, then this quiz pack will hopefully be of use to you.

Note: This product was added to our site in June 2021.
If you log in to your account, a message will replace this one to tell you whether you have already bought this quiz