Who Am I? 8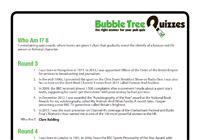 This quiz pack features 5 more "Who Am I?" rounds. In each round, teams are given 5 clues that gradually reveal the identity of a famous real life person or fictional character.

There are a variety of ways that these rounds can be used in your quiz, but we recommend that clues are read out one at a time, and after each clue teams can choose to hand in a piece of paper with their guess as to who the mystery person is, or wait for more clues. If a team guesses this correctly after just 1 clue they are awarded 5 points, if they guess correctly after 2 clues they are awarded 4 points, and so on, until they are awarded just 1 point if they need all 5 clues before they can guess correctly. Teams are only allowed one guess, and if they guess incorrectly they score zero for the round.

We recommend that you only use one of these rounds in each quiz you do, and that the rest of your quiz is made up of handout rounds, plus other types of question and answer rounds.

You probably already have everything you need to access and use these rounds in your quiz, but you might want to check our requirements page to make sure.

Note: This product was added to our site in September 2014.
If you log in to your account, a message will replace this one to tell you whether you have already bought this quiz