St Patricks Day Quiz 6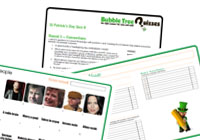 Brand new for 2014, this complete pub quiz pack features 8 high quality quiz rounds, all themed around St Patrick's Day, and so should be particularly suitable  for quizzes run on or around March 17th. The rounds are as follows...

Round 1: Handout Round - Irish People
This round is split into three sections in which teams are asked to name Irish people. The first features 5 photos, the second features 5 anagrams, and the final section features 5 cryptic clues.

Round 2: Ireland
10 questions on the general theme of Ireland, such as "Also the surname of a famous TV family, what is the largest province of Ireland in terms of area?"

Round 3: Connections
2 sets of 4 questions on General Knowledge, with questions 5 and 10 asking for a St Patrick's Day related connection between the previous 4 answers.

Round 4: Famous Patricks
10 questions on famous people called Patrick, such as "Which Patrick believed he was the only person to meet the first man to fly, Orville Wright, the first man in space, Yuri Gagarin, and the first man on the moon, Neil Armstrong?"

Round 5: High Fives
2 questions on Ireland, each requiring 5 answers, and where each individual answer is worth 1 point.

Round 6: St Patrick's Day In History
10 questions on events that took place on March 17th in years gone by, such as "On March 17th 1921, Marie Stopes opened the UK's first clinic to specialise in what subject?"

Round 7: Entertainment
10 questions on entertainment with an Irish theme, such as "How many sons does Mrs Brown have in the TV show Mrs Brown's Boys?"

Round 8: Double Trouble
10 questions themed around St Patrick's Day, such as "If you flew due south from Dublin airport, which country would you fly over first after leaving Ireland?". A correct answer is worth 2 points, but teams can choose to leave any answers blank because an incorrect answer is worth minus 4 points!
The quiz is made up of 5 separate files as follows...
First of all there is a specially designed 2 page St Patrick's Day answer sheet that can be printed out and distributed to each team at the start of the quiz for them to write their answers on as you read out the questions. This also includes a round by round scoresheet to make it easy to see how each team has performed after all the answers have been marked at the end of the quiz.
Secondly, there is the handout round, which again is to be printed out and distributed to each team at the start of the quiz for them to work on straight away, and carry on working on throughout the quiz and during any breaks you have.
Next there is a 4 page sheet featuring all the questions in rounds 2 to 8 for you to read out during the quiz, along with all the answers to these plus the answers to the handout round to be used at the end of the quiz to mark everyone's answers. This also features 2 St Patrick's Day themed tie-break questions to be used at the end of your quiz if two or more teams end up with the same score. There is also a "questions only" version of this included to give the quizmaster the option of taking part in the quiz by being able to see the questions without seeing the answers.

Finally, there is a 4 page sheet featuring detailed round by round instructions and notes, plus general advice and recommendations on running the quiz.
If you buy this quiz, we will give you access to pdf files you can download. These will contain all of the material described above. You probably already have everything you need to access and use these rounds in your quiz, but you might want to check our requirements page to make sure.

Note: This product was added to our site in March 2014.
If you log in to your account, a message will replace this one to tell you whether you have already bought this quiz