Movie Story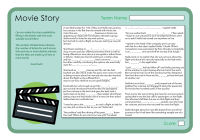 Another in our highly entertaining series of "story" rounds, the aim here is to make a story readable by filling in the gaps with the titles of famous movies.
For example, the extract "She'd been working at  _ _ _ / _ _ _ _ _ _ / _ _ _ _ _ _ _ _ _ _  shop in town..." can be completed by inserting "The French Connection".
There are 20 gaps in total, so 20 points are available and while a few should be fairly easy for teams to solve, there are plenty which should take a lot of puzzling over before coming to the right answer.
As the story is fairly long, it is recommended that it is used in a quiz as a handout round and that a considerable amount of time is given so that all the teams in your quiz can enjoy this round fully. For more information on handout rounds and our recommended use for them in quizzes click here
If you buy this handout round, we will give you access to pdf files you can download. Two of these will be for the main handout sheet - one as illustrated above, and one in a more plain format. The third sheet will contain the answers. You probably already have everything you need to access and use these rounds in your quiz, but you might want to check our requirements page to make sure.

Note: This product was added to our site in December 2006.
If you log in to your account, a message will replace this one to tell you whether you have already bought this quiz